We Deliver Fresh, Organic Fruit to Your Office
Set a healthy example by investing in your most valuable assets: your staff.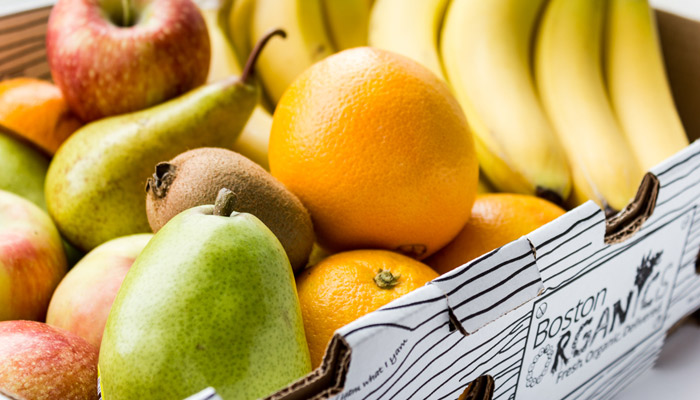 Convenience
Receive a regular delivery of a variety of fresh fruits.
Health
Keep employees loyal, productive and energetic.
Affordability
Choose from a variety of options to meet your company's needs and budget.
Commitment
Demonstrate your company's dedication to your employees' health and wellness.
How Does It Work?
Choose your frequency.
Choose your box size. (See below.)
Make your no-list.
Add groceries to your order like coffee, milk and snacks.
For an office of 5-20 employees
The Standard Office Box contains roughly 25-30 servings of fruit. $32
This week's Standard Office Box contains:
2 Gala Apples (WA)
2 Granny Smith Apples (WA)
6 lb Bananas (Colombia, Ecuador, or Peru)
6 Kiwis (Italy)
6 Cara Cara Oranges (CA)
2 Anjou Pears (WA)
2 Bosc Pears (WA)
For an office of 20+ employees
The Large Office Box contains roughly 40-45 servings of fruit. $48
This week's Large Office Box contains:
3 Gala Apples (WA)
3 Granny Smith Apples (WA)
10 lb Bananas (Colombia, Ecuador, or Peru)
8 Kiwis (Italy)
10 Cara Cara Oranges (CA)
3 Anjou Pears (WA)
3 Bosc Pears (WA)
For an office of 50+ employees
We will work with you to build a custom plan to suit the unique needs of a larger office. Email us for more info at HealthyOffice@bostonorganics.com.
Things to Know
No Fees: We don't charge you fees for any standard service offerings. That means no fees for sign-up, delivery (except for those made above the 3rd floor), cancellation or putting your delivery on hold.
Flexibility: There are no advance commitments and you can put your delivery on hold or cancel at any time.
Service Guarantee: We're all about service. From our delivery drivers to our customer service team, we aim to please. If anything is ever not to your liking, give us a call and we'll address it right away.
Custom Deliveries
Most of our office customers find they can easily meet their needs by selecting one or more of our ready-to-eat fruit boxes. But for offices who will need a higher volume or deliveries several days per week, we can create a custom quote for you.
If you find that you need help determining your office's needs or think you need a custom quote, we're here to help. Just fill out this form and we'll get back to you with options.